Summer Concert, June 2022
18th June 2022 in St Mary's Church, Wigton
Our next concert is to be held at 7.30pm on Saturday, 18th June 2022.
Programme
The programme, consisting of pieces of reflection on the horror, waste and futility of war, was determined before the tragedy began to unfold in Ukraine. It now seems, sadly, to be a remarkably prescient choice. We think you will find the music immensely moving, especially in this current time.
The Armed Man: A Mass for Peace Karl Jenkins
Requiem Maurice Duruflé
Solidarity
We wish to support the humanitarian activities in Ukraine and other affected areas. A retiring collection at the concert will be in aid of this effort.
We also recognise the ordeal of those refugees who have had to leave their country. We would like to extend a welcome to any refugees from the war who have found a home in this area to join us for this evening concert. Complimentary tickets will be available on the door. However, we should point out that, although The Armed Man is indeed a Mass for Peace, the portrayal wihin the music of the inevitable violence and shock of conflict could be disturbing, particularly for those who have recently experienced traumatic events.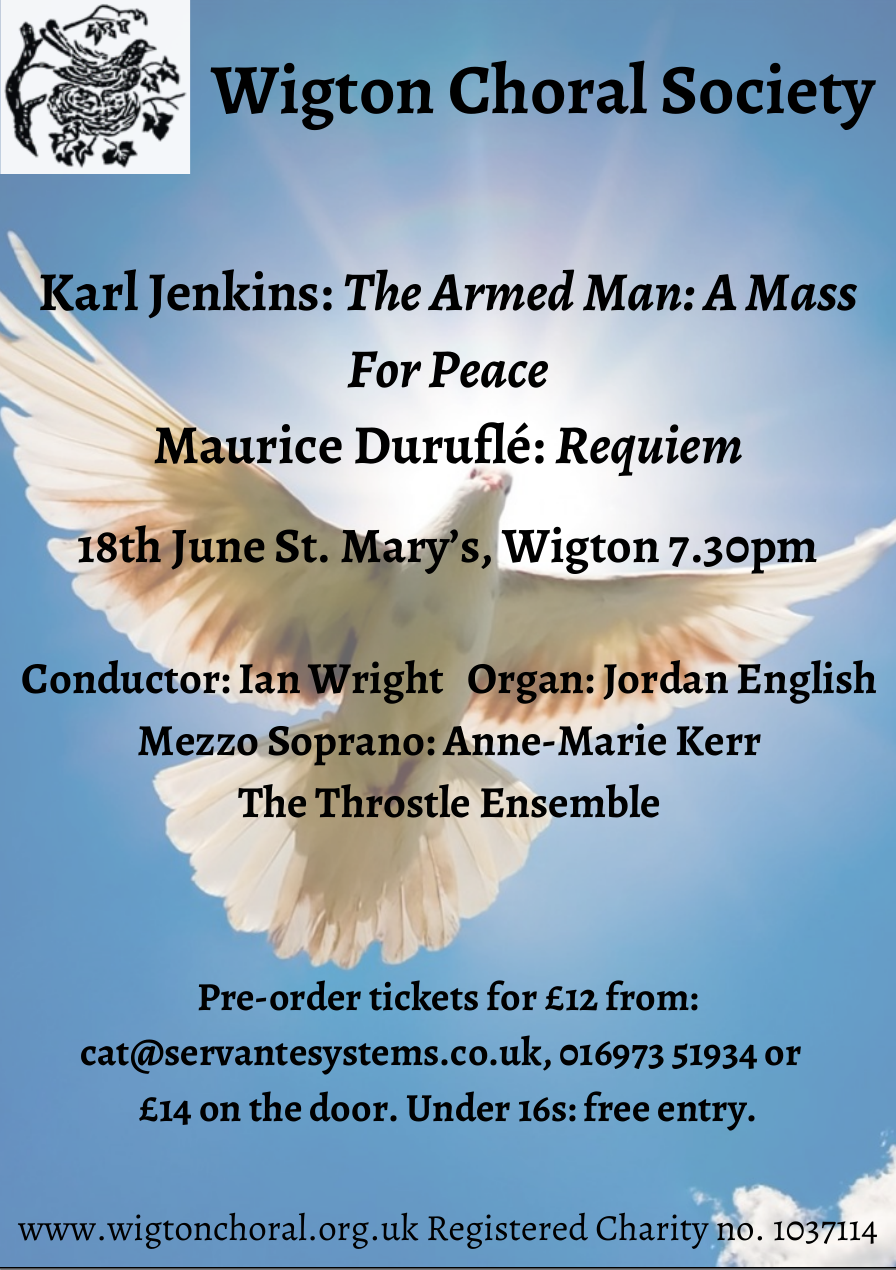 Concert details
Our conductor will be our Music Director, Ian Wright.
We are delighted to welcome back as solo mezzo soprano Anne-Marie Kerr.
The organ will be played by Jordan English and orchestral accompaniment by The Throstle Ensemble.
Tickets
Tickets can be ordered for £12 from cat@servantesystems.co.uk, tel 016973 51934. Admission on the door is also available, at £14. Entry is free for under-16s; we extend this invitation to refugees from the Ukrainian conflict (see above).
A pdf copy of the flyer can be downloaded here.